Spilios Petzas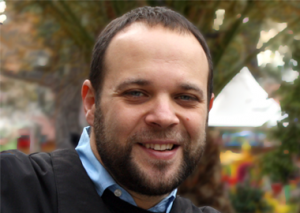 Spilios Petzas was born in Athens and raised in Kallithea and Nea Smyrni. Since he was a child he enjoyed to play with water and soil, so it was inevitable to study as an Agronomist. He has graduated from Agricultural University of Athens, majored in crop science and specialized in floriculture and landscape architecture. The period of his studies, he was also extensively occupied with urban environment management.
Since 1997 he has been a professional in landscape management field either as an employer or as self-employed. He likes to design gardens and parks, but at the same time he enjoys to participate in the construction procedure, inasmuch digging, planting and being in touch with soil, water and plants are still among his adult favorite pursuits.
Apart from gardens he luxuriates to design logos, prints and websites and considers design as an integral part of his creative expression. He has been awarded in Regional Media Awards 2016 for Best Cover/Front Page/Headlines, regarding the design for Serious (magazine about Culture in Cyclades).
He has been an active volunteer in NGOs, since his 16th years, mainly in supporting vulnerable populations, emphasizing in children's psychosocial support. He is a member of the administrative board and active volunteer in NGO Happy Children – Happy Youth Camps. He has a strong belief that volunteerism and solidarity to fellow man is a way of life and expression of everyone's culture.
He has been a member of cultural (theater, radio, magazines) and social intervention groups.