Friends & Patrons of the SNFCC cooperate with other institutions and organizations to achieve their goals, with joint actions, exchange of ideas and best practices.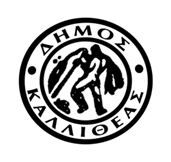 The modern Municipality of Kallithea (meaning in Greek "the best view"), founded in 1884 and its roots are found in the prehistoric period of Athens. It is located in southern Athens, near Faliron coast and occupies an area of 4500 square kilometers with its sea-front area of approximately 1,200 m.
The official population is around 100,000 inhabitants, however it is estimated that over 250,000 people live and work within the limits of the Municipality of Kallithea. It is one of the most densely populated municipalities in Greece. Kallithea hosts two universities, Panteion University and Harokopeio University, and a large number of cultural infrastructure (Municipal Library, City Cinema, Municipal Theater, Municipal Conservatory, Municipal Philharmonic). The Municipality of Kallithea is considered as one of the cradles of the so called "rebetiko" song while continuously contributes to the evolution of modern Greek culture. For more information please visit the official website of the Municipality of Kallithea.
---
With its extensive service and specific facilities, the Stifterverband is a central service provider for non-profit foundations and organisations in Germany. The Stifterverband offers benefactors and foundations a customised service to further concentrate this and give it a specific focus. The Deutsches Stiftungszentrum (German Foundations Centre) is a key establishment, where the Stifterverband pools all its foundation-related competencies. It looks after more than 640 non-profit and charitable foundations with assets totalling more than 2.6 billion Euros. These include scientific foundations, as well as foundations serving cultural or social purposes, for which the Stifterverband acts as an important point of contact, strategic think tank and source of inspiration in everyday work. Located at the Essen, Hamburg, Berlin and Munich branches, the experts of the Deutsches Stiftungszentrum provide professional counselling on all issues relating to starting a foundation, managing a foundation, and managing assets.
---

US-based donors may support Friends & Patrons of the SNFCC with a tax-deductible donation to the King Baudouin Foundation United States, a 501c3 public charity collecting funds for the project.