Anna Pouskouri-Reiche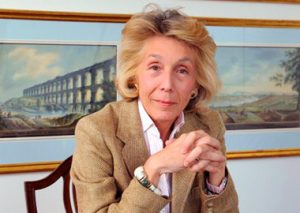 Anna Pouskouri-Reiche started her professional career in 1979 in Bayersiche Vereinsbank AG in Munich. During her career, she held numerous positions in Munich and in Athens.
She returned permanently to Greece in 1996 to expand the Bank's operations in the areas of corporate finance, major projects (AIA, Attiki Odos Road et al.), shipping, consulting services. She completed her career at the Bank as Managing Director, Head of Corporate and Investment Banking for Southern Europe. In recent years she has provided consulting services to businesses in Greece and abroad. She is a Board Member of Hellas Capital Leasing S.A. and NIREUS S.A.
She was a member of numerous boards and committees of non-profit Organizations. From 2004 to 2009, she was a member of the Greek Advisory Committee of the Stavros Niarchos Foundation. As part of the work of the Committee, her involvement in the planning of SNFCC as a leading Cultural Project internationally, have led her to the founding of the non-profit organizations Friends & Patrons of the SNFCC (2015) in Athens and Freunde und Foerderer des SNFCC in Munich (2014).
She studied Economics at the University of Munich and Regional Planning at the Technical University of the same city. She is married and has two children.